Global Healthcare 2023 Meeting &amp Hospitality
Address
Millennium Hotel Paris Charles de Gaulle
Tentative Address: Hotel Zone 2 Allee Du Verger Roissy En France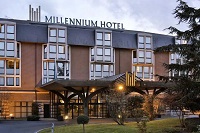 The City
Paris, France is an ideal location for conferences and events. Known as the "City of Light," Paris has a long history of welcoming visitors from around the world with its iconic landmarks, world-class museums, fine cuisine, and luxurious accommodations. The city's central location in Europe, along with its excellent transportation infrastructure, including two international airports and an extensive metro system, make it easily accessible from anywhere in the world.
The city's many cultural institutions, including the Louvre Museum, the Musée d'Orsay, and the Centre Pompidou, provide a wealth of opportunities for attendees to explore the arts and cultural heritage of France. In addition, Paris is a hub for fashion, design, and culinary excellence, with many high-end shops, restaurants, and cafes offering attendees a taste of French culture.
In summary, Paris, France is a world-class destination for conferences and events. With its top-tier conference venues, thriving business community, cultural institutions, fine cuisine, luxurious accommodations, and accessibility from around the world, Paris is an ideal destination for any type of conference or event. Whether you're looking to explore the arts, taste the finest French cuisine, or simply enjoy the city's many attractions, Paris has something for everyone.
Directions
Route Map